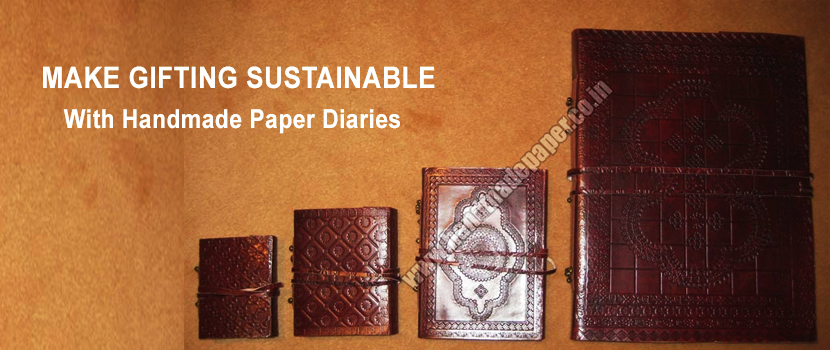 A handmade paper diary is a journal or notebook that is made using traditional papermaking techniques. The paper for these diaries is usually made from recycled materials such as cotton rags, plant fibers, or other natural materials, and is often acid-free and of archival quality to ensure durability and longevity. The process of making the paper involves dipping a mold into a vat of wet fibers, draining off the excess water, and then pressing and drying the fibers to create a sheet of paper.
Handmade paper diaries are often prized for their unique texture, appearance, and eco-friendliness. They are often favored by artists, writers, and other creative individuals who appreciate the unique qualities of handmade paper and enjoy the tactile experience of writing on it.
Overall, a handmade paper diary is a unique and environmentally conscious choice for anyone who wants to keep a journal or notebook. With their distinctive texture and appearance, they can serve as a creative outlet and a source of inspiration.
Pick Your Reasons For Choosing Handmade Paper Diaries
There are several reasons why someone might choose a handmade paper diary over a commercially produced one.
1. Environmental consciousness: Handmade paper diaries are often made from recycled or sustainable materials, making them a more eco-friendly choice compared to commercially produced journals made from virgin wood pulp.
2. Unique texture and appearance: Handmade paper has a distinct texture and appearance, with variations in color and pattern, that gives it a one-of-a-kind quality. This can add character and personality to a journal and make it more special and meaningful to the person using it.
3. Better writing experience: Handmade paper is often more absorbent than commercially produced paper, which means that ink doesn't smear or bleed through as easily. This can result in a smoother and more enjoyable writing experience.
4. Support for small businesses: Handmade paper diaries are often produced by small, independent artisans who take great care and pride in their work. By choosing a handmade diary, you can support these businesses and help preserve traditional papermaking techniques.
5. Creativity and personal expression: Handmade paper diaries can be used as a canvas for artistic expression, and many people enjoy using them to write, draw, or doodle. They can be a source of inspiration and a place to let your creativity run wild.
You will find many handmade paper diary exporters from India who will provide you with some extremely good handmade paper diaries that are unique and stand out.
Some Tips For You To Buy The Best Quality Products
When buying handmade paper diaries, consider the following tips to ensure you purchase a high-quality product:
1. Check the paper quality: Handmade paper is made from natural fibers and is typically thicker and more textured than regular paper. When buying a handmade paper diary, make sure to feel the paper to check its thickness, texture, and durability.
2. Look for eco-friendly materials: If you're environmentally conscious, look for handmade paper diaries made from recycled materials, or ones that use sustainable production processes.
3. Consider the size and layout: Handmade paper diaries come in various sizes, so consider what size will work best for you. Some diaries also have different page layouts, so think about what type of pages you would like to see in your diary.
4. Choose the right binding: The binding of a diary is important, as it determines how well the pages will stay together. Consider the type of binding, such as spiral or thread binding, and the quality of the binding to ensure your diary stays intact over time.
5. Pay attention to the cover: The cover of a handmade paper diary is often a work of art in its own right. Look for covers made from high-quality materials such as leather, cloth, or paper, and choose a design that appeals to you.
6. Read reviews: Before you buy a handmade paper diary, take some time to read reviews from other customers. This can help you get an idea of the quality of the diary, as well as its pros and cons.
7. Support local artisans: Consider purchasing handmade paper diaries from local artisans, as this can help support the local economy and ensure that you're getting a truly unique and high-quality product.
With some reputed handmade paper diary exporters from India, you will be able to get the best quality products which will last longer and have unique designs.